University was a struggle and a half. The pressure of doing well at University just made me not want to do any of the work so I started to fill my time doing other things whether that was drinking or watching shows. I have a lot of favourite tv shows but there's a few that were a staple to my university life. In no particular order, here are my top 5 shows that got me through university:
1. Umbrella Academy
I was obsessed with this show. It is based on the Umbrella Academy comic books. I started watching it mainly because it was directed and written by Gerard Way from My Chemical Romance (who I loved as an angsty teen, still love now tbh). The first few episodes were a bit lacklustre but the rest of Season 1 and Season 2 were amazing. The dysfunctional family dynamic relaxed me because it reminded me of home. My favourite character has to be Klaus. He's a bit crazy but he's got a good heart which I relate to even though can speak to the dead which I cannot.

This show is such an easy watch. It is packed with action, emotion and humour. It is well written and all the characters are likeable. They all have their mental struggles and issues which you don't get to see much in superheroes. In my personal opinion, season 2 is better than season 1. Vanya becomes a lot more likeable in Season 2 and her character gets more layers which makes her more interesting.

Overall, this show was a good distraction from my work and it made me genuinely smile which was rare when I was in uni because I was sad a lot of the time.
2. Fresh Meat
This show is exactly what uni was like for me. I love it. I knew the show existed beforehand but I never really got into it until my friend Chloe showed me at her house while we were hungover. We'd barely known each other a few weeks and she'd invited me out for her birthday and then to move in with her a few weeks later. I was hooked on this show after that. It is so relatable to university life and living in a uni house. They have all the typical uni student tropes the couple, the mature student, the posh ones and the one who just doesn't care.
Vod is by far my favourite and the most relatable. She just doesn't care about anything and it's just sort of vibing and living her best life. She does her own thing most of the time and she's hilarious. JP is the most annoying to me. Those posh boys that act like that get on my nerves. Luckily a large majority of the "posh" boys I met at uni were lovely.

Overall, this show was amazing. So cheers Chloe for the recommendation.
3. The Witcher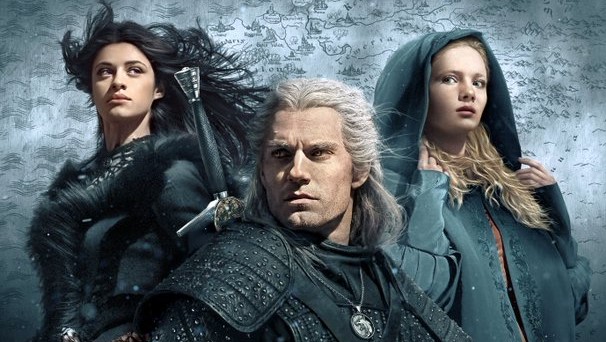 I'm going to be honest here I only initially watched this for Henry Cavill. He's one of my favourite actors and he's good looking too. I thought I wasn't going to like it because it gave me Game of Thrones vibes and I disliked GoT for how boring it was. This wasn't the case. I fell in love with the Witcher and all the characters. It's so well written and the costume and set design are stunning.
After watching this show obsessively for months I finally got a PC and bought all the Witcher games (thanks steam winter sale) I played all of them which made me fall even more in love with the show. It's not the same but there are huge similarities. I just can't get over how stunning all the actors are and the costumes. The dress department did so well. All the costumes are stunning. Plus the music in this. "Toss a Coin to your Witcher" was stuck in my head for weeks and was one of my top played songs of 2020.
4. Waterloo Road
Now this one is a huge throwback.
If you're from the UK and mainly the north then you'll know this show. It was filmed around the corner from my house. It was such a comfort show for me. If I was homesick I'd whack on an episode of Waterloo Road. Everything was so familiar and relatable I just loved it. My uni house and I used to binge all seasons of this. My favourite headteacher is Miss Rachel Mason. She was such an icon. My two favourite pupils were Finn Sharkey and Bolton Smiley. They were just so likeable and very much like the boys I went to school with. It actually made me miss high school for a bit. It also tackled a fair few issues such as abuse, teenage pregnancy, gun violence and loss.
spoiler when Sambuca died I sobbed. She was such an iconic character and a sweetheart and it was so sad to see her go. The most traumatic death for me though was either Izzy or Mr Clarkson. They totally deserved better for sure.
As the seasons went on it got a bit crap especially when it moved to Scotland. It didn't really have the same homely feel but the earlier seasons I can't get enough of.
5. Hannah Montana
I know what you're thinking, Hannah Montana?
I get it's not a typical show you'd see on this list but it did help. I say the word help loosely here. It didn't help at all, it was more of a distraction. Instead of writing my super important and great dissertation, I decided it'd be a good idea to relive my childhood. I do not regret it one bit. This show is elite.
I used to own a blonde Hannah wig and a singing hairbrush. I was Hannah's no.1 Stan. It only seemed right to comfort me with this show in one of the hardest times in my life. I loved every second of it. Oliver is my favourite character for sure. He was just so dorky and I used to have a HUGE crush on Mitchell Musso, especially in Pair of Kings.
I watched all 4 seasons in about 3 days. I was addicted and I have 0 shame in that. Eventually, I did finish it and had to start my awful dissertation but the grade I got wasn't too bad so maybe Hannah Montana taught me something.
So there you have it! My Top 5 Shows that got me through university. These shows were integral to my uni life and I recommend you give them a watch if you haven't. Not to be biased but they're really good. 🙂 I've left a poll at the bottom of this post. Vote for your favourite now!
5sos 22 all time low birthday foo fighters grief life loss lovejoy mother music music journalism reflection scouting for girls the beatles the witcher tv shows umbrella academy wilbur soot